The Residences at 400 Central developer says 'everything is a go' for St. Pete tower
The Residences at 400 Central is nearing a construction milestone as the developer finalizes preparations to pour 6,500 cubic yards of concrete in the next few weeks.
John Catsimatidis Sr., founder of Red Apple Real Estate, discussed the next steps for the project Saturday morning at the sales gallery at 465 Central Ave. His son, John Catsimatidis Jr., executive vice president and chief investment officer of Red Apple Group, said they will soon pour five basketball courts' worth of concrete. The tower will span an entire block in downtown St. Petersburg.
"When I was going to college and driving around New York City, there were certain buildings that made me say, 'Wow, I want to live there,'" Catsimatidis Sr. said. "I want every building I build at the age of 70 plus to be a 'wow' building and something that I'll be proud of."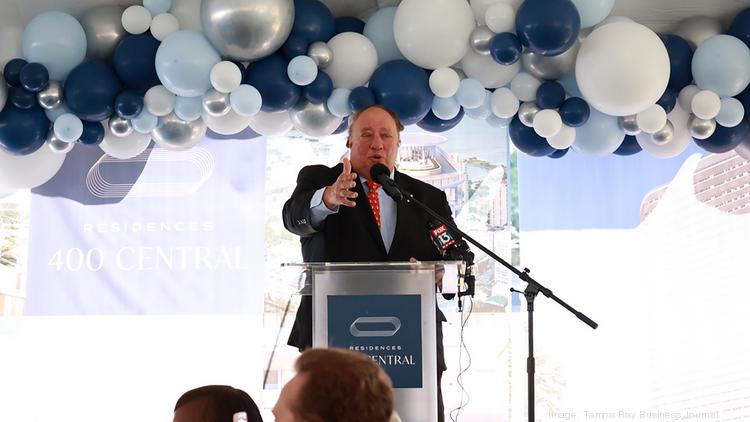 The 46-story mixed-use residential tower will have 301 luxury condominiums, restaurants, shops and approximately 40,000 square feet of Class A office space. The project is estimated to cost roughly $400 million, and at 515 feet tall, it will have views of the Gulf of Mexico and Tampa Bay. At the top of the building will be the Sky Lounge Observatory. It is slotted to be the tallest residential building on the west coast of Florida.
While the plans are currently for 40,000 square feet of office space, Catsimatidis Sr. said he hopes it can be changed to 80,000 square feet. He said they may have already leased nearly all the planned office space, though he would not confirm how much is being rented or which company will be renting the space. He said they are "close" to being full.
Catsimatidis Sr. said sales have "picked up dramatically" in the last few weeks. He also received permission a few weeks ago to advertise in New York, which he said will keep the momentum going.
He said St. Petersburg is still selling apartments for a third of the price of Miami and Naples. St. Pete is still a city of opportunities, and the return on investments is still high. He purchased the penthouse at The Residences at 400 Central for his family as they want to continue to live and invest in the city where his family has deep ties.
He plans to make a statue of his wife's mother and place it in the lobby of the building. They also want to work with local artists and feature their work on the site.
Catsimatidis Sr. said they are currently looking for two or three other sites in Florida and reiterated Red Apple Real Estate would spend its next billion in development in Florida. Though all of Florida is being watched, Kevin King, director of business development for Florida, told the Tampa Bay Business Journal that Catsimatidis' love of Tampa Bay makes the area a high priority for the group.
Foundation construction began on The Residences at 400 Central in October. The group secured a $252 million construction loan from Bank OZK earlier this month. Suffolk Construction Co. is the general contractor for the project.
Catsimatidis said they were ready to fund the project themselves but were encouraged to "do a deal with a real bank." Prices have begun to go down for materials, so according to Catsimatidis, "everything is a go."